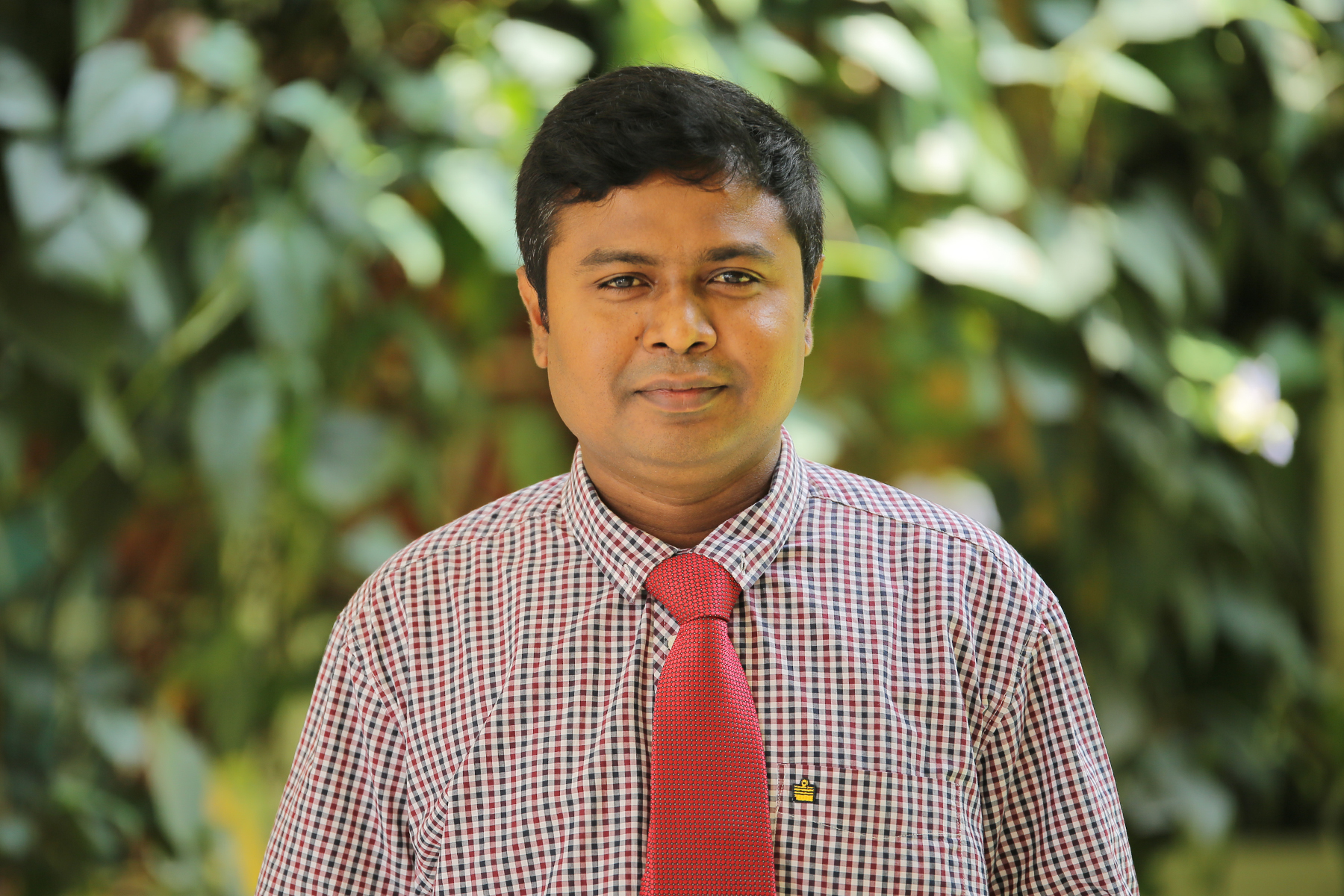 T A Pushparajah
Senior Lecturer, Gr: 11 Department of English Language Teaching
My research interests are in language testing & assessment and teacher development, and applied linguistics more generally. I am particularly interested in test constructs and test development process in second language and language assessment literacy among ESL teachers, and specifically, I look at how test constructs and tasks can be synchronized in obtaining desired outcome while testing English as a second language. I also work on the area of teacher development through peer and self-assessment.
Contact:
Contact:
Department of English Language Teaching
Faculty of Humanities
University of Kelaniya
K 05 Building
Tel: + 94 112 903 783 (Office)
E-mail: anton@kln.ac.lk (University)
            tapushparajah@live.com (Other)
Educational Qualifications:
Master of Arts in Linguistics, University of Kelaniya
Master of Arts in International Relations, University of Colombo
Bachelor of Arts (Hons.) in English Literature, University of Jaffna
Professional Qualifications in English Language Teaching & Assessment:
Certificate in English Language Teaching to Adults (CELTA), University of Cambridge, United Kingdom
Language Testing Summer School, University of Lancaster, United Kingdom
Team Leader & Spoken Examiner for Cambridge Assessment English (CAE, BEC Preliminary, BEC Vantage)
Teacher Trainer, English Teacher Training Course as a part of the MOHE Teacher Training Programme conducted by British Council in partnership with the Ministry of Higher Education, Sri Lanka.
Staff Development Course for Probationary Academic Staff, University of Kelaniya, Sri Lanka
Other Teaching Experience
Assistant Lecturer, Department of English, University of Kelaniya: 2009 Nov – 2011 Apr  Visiting Lecturer, Department of Languages & Communication Studies, Trincomalee Campus of Eastern University of Sri Lanka: 2013- 2015
Visiting Lecturer, Department of Chemical and Process Engineering, University of Moratuwa: 2017- 2019
Visiting Lecturer, Department of English Language Teaching, South Eastern University of Sri Lanka: 2018- 2019
Visiting Lecturer, Australian College of Business & Technology, Colombo
 Research & Publication
 Publication:
Pushparajah,T.A, Manobavan.M, (2009), Martin Wickremasinghe's perspectives on strategic thinking towards attaining (business) goals- a case study of the human resource potentials of the key-characters portrayed in the novel MadolDoova, International Research Conference on Management and Finance, Faculty of Management and Finance, University of Colombo, Sri Lanaka , ISBN 978-955-9021-79-7
 Conference Presentations:
Pushparajah,T.A (2007), Multi-faceted aspect of Salman Rushdie's Midnight's Children, Unpublished BA Dissertation, University of Jaffna
Pushparajah, T.A, (2008), Globalization and Contemporary Literature, Annual Research Conference of the Vavuniya Campus of the University of Jaffna, ISSN 1800-4911
Pushparajah, T.A (2008), Sociological perspectives of contemporary Indian Literature with special reference to Salman Rushdie's Midnight's Children, Annual Research Conference of the Vavuniya Campus of the University of Jaffna, ISSN 1800-4911
Pushparajah, T.A, Manobavan. M, (2009), Impacts of globalization on the sociological makeup of contemporary literature and mass-media, Annual Research Conference of Sociological Association of Sri Lanka
Pushparajah, T. A (2010), Sociograms as scaffolding to teach literary texts in the secondary and tertiary education, Sixth International SLELTA Conference, BMICH, Colombo, Sri Lanka
Pushparajah, T. A, Manobavan (2010), Using the war cum political strategies used in the Mahabarata as a paradigm to stimulate strategy formulation for business management – a mental modelling approach, 12th Annual Research Symposium of the Faculty of Graduate Studies of University of Kelaniya, Sri Lanka
Pushparajah, T. A (2011), Representation and representability of Tamils in the post-war scenario, Annual Research Symposium of the University of Jaffna, Sri Lanka
Pushparajah, T. A (2012), Integration of technology in the ESL classroom: perspective and challenges, 13th Annual Research Symposium of the Faculty of Graduate Studies of University of Kelaniya, Sri Lanka
Pushparajah, T. A (2013), Better Questions for Better Answers: A Strategy to Develop Critical Thinking and Communicative Skills among ESL learners, 14th Annual Research Symposium of the Faculty of Graduate Studies the University of Kelaniya, Sri Lanka
Pushparajah, T.A, Wickramaarachchi, T.I, Chitrasena, H.R.K (2013), Towards a Corpus-Based Identification of Sri Lankan Learner English: A Pilot Study Based on First Year Undergraduate Writings at the University of Kelaniya, First National Conference on General Linguistics, University of Kelaniya
Pushparajah, T.A. (2014), Use of short videos to help ESL students to develop critical thinking, 6th International Conference on Language and Communication, Graduate School of Language and Communication, National Institute of Development Administration, Bangkok, Thailand
Pushparajah, T.A. (2015), Changing assessment and pedagogical reconstruction in the English as a Second Language (ESL) classrooms in Sri Lanka, International Conference on Social Sciences and Humanities (ICSSH 2015), Colombo, Sri Lanka
 Awards & Medals
Gold Medalist of Prof. T. Thurairajah memorial award for the overall performance at the Faculty of Arts, University of Jaffna, Sri Lanka- 2006
Martin Wickremasinghe's perspectives on strategic thinking towards attaining (business) goals- a case study of the human resource potentials of the key-characters portrayed in the novel MadolDoova (Research Paper was adjudged as a best paper in the track of Business and Innovative Management at the 4th International Conference on Finance and Management-2009, University of Colombo-2009 )
Memberships & Professional Activities
Treasurer, Sri Lanka English Language Teachers' Association (SLELTA), 2011-2014 
Peer Support Group Member (PSR) for Regional Teachers' Association in South Asia
Regional Hornby School, Bangladesh, 2011
 Current Teaching
Language Testing and Evaluation
Language Policy and Planning
Project on Content Development
Internship